Tapioca Pudding
Talk

0
765pages on
this wiki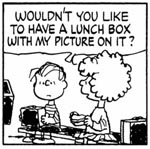 Tapioca Pudding is a minor female character in the Peanuts comic strip by Charles M. Schulz.
History
Tapioca Pudding first appeared on September 4, 1986. She appears in the same class as Linus and Charlie Brown.
Her most common character trait is probably talking too much. She always talks on and on about herself, or her father, which often bores and annoys other characters .
It seems that Tapioca Pudding is very proud of her father's job, and therefore, has to tell everybody about him. Whenever she introduces herself to anybody she says, "My dad is in licensing" and then brags about how she will one day be on products, such as lunchboxes and t-shirts (She tells Linus if they ever get married, she will already be on his lunchbox).
Tapioca has a crush on Linus, which annoys Sally Brown. Every time she sees Linus she tells him "My name is Tapioca Pudding", to which Linus annoyingly replies "I know". Tapioca then, of course, tells him how her father is in licensing.
Her last appearance in the strip was on December 1, 1986.
Trivia
She is one of the many Peanuts characters who appear in the game Snoopy's Street Fair, where she owns a souvenir booth, which reflects how her father is into licensing.
Tapioca Pudding's dessert-based name and association with merchandise may peg her as a parody of Strawberry Shortcake, which was a very popular doll during the time of her introduction.
External links