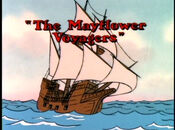 "The Mayflower Voyagers" is the first episode of This Is America, Charlie Brown. It first aired on CBS on October 21, 1988.
This episode is more frequently aired than any other in the series, due to airing alongside A Charlie Brown Thanksgiving annually on ABC since 2008. It is also available with A Charlie Brown Thanksgiving on DVD and Blu-ray.
Voice cast
Gregg Berger : Miles Standish / additional adult voices
Frank Welker : Additional adult voices
Goofs
Lucy's feet change throughout the special, from brown shoes, to brown feet, to bare feet
External links
This article, "The Mayflower Voyagers", is a stub.
You are invited to
add content
to this page.
Ad blocker interference detected!
Wikia is a free-to-use site that makes money from advertising. We have a modified experience for viewers using ad blockers

Wikia is not accessible if you've made further modifications. Remove the custom ad blocker rule(s) and the page will load as expected.