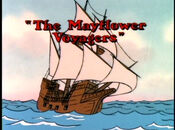 "The Mayflower Voyagers" is the first episode of This Is America, Charlie Brown. It first aired on CBS on October 21, 1988.
This episode is more frequently aired than any other in the series, due to airing alongside A Charlie Brown Thanksgiving annually on ABC since 2008. It is also available with A Charlie Brown Thanksgiving on DVD and Blu-ray.
Voice cast
Credits
Written By
CHARLES M. SCHULZ
And
LEE MENDELSON
Music
ED BOGAS
Voices
ERIN CHASE FRANK WELKER
BRANDON STEWART GREGG BERGER
BRITTANY THORNTON CHRIS COLLINS
ERICA GAYLE TANI POWERS
JASON MENDELSON SEAN MENDELSON
BILL MELENDEZ
Designed By
LEONARDO MORAN DARREL ROONEY
LYNETTE NUDING DEAN SPILLE
Animation By
STEVE WAHL SAM FLEMING
LESLIE GORIN BURT MEDALL
AL PABIAN JOE ROMAN
BARRIE NELSON BOB MATZ
LARRY LEICHLITER ISTVAN MAJOROS
DICK HORN BILL HAJEE
ARTHUR HUMBERSTONE CRAIG CLARK
Checking
EVE FLETCHER CYNTHIA GOODE
JANETTE HULETT BARBARA DONATELLI
Ink & Paint Supervision
JANE GONZALES
Ink And Paint
JOANNE LANSING MICKEY CREYMAN
EMALENE SEOTTER COLENE GONZALES
LEE GUTTMAN PEGGY GREGORY
MYRANA GIBBS JOAN PABIAN
TEALE WANG BARBARA HIESTAND
PATRICIA CAPOZZE MELING PABIAN
CATHERINE SIMMONDS VIRGINIA TUCKER
COOKIE TRICARICO VERONICA HALMOS
CHRISTINA LONG JOYCE FREY
Editing
CHUCK McCANN WARREN TAYLER
GORDON BRENNER
Production Manager
CAROLE BARNES
Production Assistiants
CAROL NEAL JOANNA LOCCISANO
NINA SKAHAN GLENN MENDELSON
KRISTY MENDELSON
Camera: NICK VASU
Dubbing: UNIVERSAL CITY STUDIOS
Voice Recording: BUZZY'S RECORDING SERVICES
Music Recording: RUSSIAN HILL RECORDING
Color: TECHNICOLOR
Thanks to
PLYMOUTH PLANTATION
Plymouth, Ma
A Lee Mendelson•Bill Melendez Production
In Association With
Charles M. Schulz Creative Associates
And United Media Productions
THE END
This Is America Charlie Brown
The Mayflower Voyagers
Copyright C. 1988 United Features Syndicate Inc.
Goofs
Lucy's feet change throughout the special, from brown shoes, to brown feet, to bare feet
External links
This article, "The Mayflower Voyagers", is a stub.
You are invited to
add content
to this page.
Ad blocker interference detected!
Wikia is a free-to-use site that makes money from advertising. We have a modified experience for viewers using ad blockers

Wikia is not accessible if you've made further modifications. Remove the custom ad blocker rule(s) and the page will load as expected.