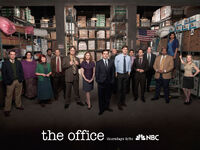 The Office is an American comedy television series broadcast by the National Broadcasting Company (NBC), which began on March 24, 2005, and ended on May 19, 2013. It is an adaptation of the previous BBC series of the same name. The series depicts the everyday lives of office employees, in the Scranton, Pennsylvania branch of the fictional Dunder Mifflin Paper Company, including office manager, Michael Scott (Steve Carrell), Dwight Schrute (Rainn Wilson), Jim Halpert (John Krasinski), Pam Beesly (Jenna Fischer), and Ryan Howard (B.J. Novak). To simulate the look of an actual documentary, it is filmed in a single-camera setup, without a studio audience or a laugh track.
References to Peanuts
In the episode, "Grief Counseling", Michael Scott says that although there is such a thing as bad grief, there is also such thing as good grief, then adds "just ask Charlie Brown", a reference to Charlie Brown's catchphrase.
In the episode, "Customer Survey", Pam is shown to have a picture of Snoopy on her mug.
In the episode "Manager and the Salesman", Andy gets Erin a Valentine's card, which Erin notes, has a picture of a dog and a bird on it. Andy tells her they are Snoopy and Woodstock, to which Erin replies "You named them?", before Andy tells her Charles Schulz named them.
In "Classy Christmas", when Andy and Pam are going Christmas tree shopping, Andy suggests that they get the smallest tree, to be like Charlie Brown in A Charlie Brown Christmas.
In "Here Comes Treble", Kevin dresses up as Charlie Brown for Halloween.
External links
Ad blocker interference detected!
Wikia is a free-to-use site that makes money from advertising. We have a modified experience for viewers using ad blockers

Wikia is not accessible if you've made further modifications. Remove the custom ad blocker rule(s) and the page will load as expected.