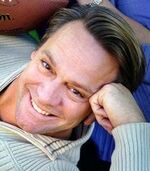 Todd Barbee is a former child actor who provided the voice of Charlie Brown in three Peanuts television specials: A Charlie Brown Thanksgiving, It's a Mystery, Charlie Brown and It's the Easter Beagle, Charlie Brown.
Barbee also voiced Franklin in There's No Time for Love, Charlie Brown and Russell Anderson in You're Not Elected, Charlie Brown.
His father, Chuck was Lee Mendelson's director of photography.
As of 2014, Barbee works as a freelance creative director and resides in San Anslemo, California.
External links
Ad blocker interference detected!
Wikia is a free-to-use site that makes money from advertising. We have a modified experience for viewers using ad blockers

Wikia is not accessible if you've made further modifications. Remove the custom ad blocker rule(s) and the page will load as expected.