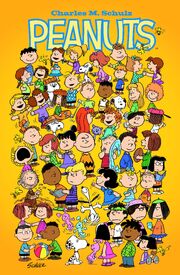 This is the cover of the new comic book, and I found it's quite interesting. I can tell some of the characters' identity, but not all of them. I think some of them are unnamed roles, but where are these unnamed roles appeared in the strip? Those I can tell are here:
Floyd
Belle
Peggy Jean
Ethan (first time without his hat!!!)
Woodstock
Sophie
Shirley
Olaf
Austin
Joe Richkid
Andy
Lila
Ruby
Poochie
Eudora
Spike
Emily
Faron
Frieda
José Peterson
Royanne Hobbs
"Crybaby" Boobie
555 95472
Patty
Violet Gray
Charlie Brown
Linus van Pelt
Shermy
Peppermint Patty
Marcie
Pig-Pen
Franklin
Schroeder
Snoopy
Lucy van Pelt
Sally Brown
Rerun van Pelt
333 95472
444 95472
"Badcall" Benny
Molly Volley
Naomi
Larry
Milo
Marbles
Lydia
Clara
There are 3 boys and 5 girls that I can't identify. They are:
The tall boy who standing next to Peggy Jean and top of Ethan
The African-American boy who standing between Joe Richkid and Andy
The African-American boy who is talking to Lydia
The blue dress girl who standing next to the bird and Floyd
The purple dress girl who is holding the blue dress girl's pigtail
The green shirt girl who is standing next to Ethan
The purple dress girl who is holding hand with the green shirt girl
The pigtailed blonde girl who is having fun with Poochie
Who are these characters?
Ad blocker interference detected!
Wikia is a free-to-use site that makes money from advertising. We have a modified experience for viewers using ad blockers

Wikia is not accessible if you've made further modifications. Remove the custom ad blocker rule(s) and the page will load as expected.