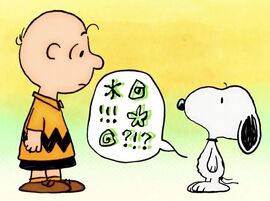 "Ventre à l'heure"
(French for "stomach on time" or "stomach clock") is a short animated cartoon from the 2014 French TV series
Peanuts
, produced by Normaal animation and based on the comic strip
Peanuts
by
Charles M. Schulz
. It first aired on France 3 on November 24, 2014. It is adapted from a comic strip that was first printed on
Octiber 28, 1973
.
Plot
Snoopy wants his supper an hour before six o' clock because his "stomach clock" was not on time. While Charlie Brown prepares the food, he thinks that his dog is ungrateful towards him. He later realizes that this is not the case, because Snoopy dances and kisses him when he brings the meal.
Ad blocker interference detected!
Wikia is a free-to-use site that makes money from advertising. We have a modified experience for viewers using ad blockers

Wikia is not accessible if you've made further modifications. Remove the custom ad blocker rule(s) and the page will load as expected.