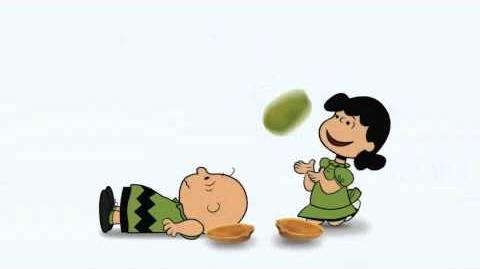 Wonderful Pistachios are a brand of pistachios distributed by Paramount Farms.
Wonderful Pistachios are advertised with a TV campaign called "Get Crackin'", featuring various well-known celebrities and fictional characters showing off how they crack open Wonderful Pistachios.
Charlie Brown and Lucy van Pelt appear in a commercial from 2010, in which Lucy is holding a pistachio and asks Charlie Brown to kick it (a reference to the football gag). Lucy, of course, jerks the pistachio away, causing Charlie Brown to go flying and land on the pistachio, breaking it open. The voice-over then says, "Lucy does it for kicks".
External links
Ad blocker interference detected!
Wikia is a free-to-use site that makes money from advertising. We have a modified experience for viewers using ad blockers

Wikia is not accessible if you've made further modifications. Remove the custom ad blocker rule(s) and the page will load as expected.