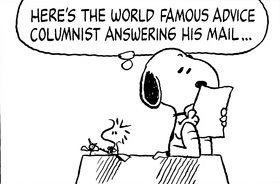 The World Famous Advice Columnist is one of Snoopy's alter-egos introduced to Peanuts comic strips on October 12, 1980.
Sitting atop his doghouse, Snoopy is shown reading letters from persons seeking advice.  He is then shown dictating his answers to his secretary, Woodstock, who sits next to him with a typewriter.
Snoopy's humorous answers usually cause him and Woodstock to burst into laughter, causing both of them to fall to the ground.
Ad blocker interference detected!
Wikia is a free-to-use site that makes money from advertising. We have a modified experience for viewers using ad blockers

Wikia is not accessible if you've made further modifications. Remove the custom ad blocker rule(s) and the page will load as expected.