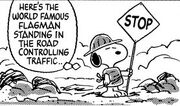 The World Famous Flagman is one of Snoopy's alter-egos introduced to Peanuts comic strips on January 9, 1991.
Dressed in a hardhat and work vest, Snoopy holds a Slow/Stop sign to control traffic at a work site.  Snoopy is shown cursing angry drivers, and stating that he stops traffic after every twenty cars, except when the driver is cute.
Ad blocker interference detected!
Wikia is a free-to-use site that makes money from advertising. We have a modified experience for viewers using ad blockers

Wikia is not accessible if you've made further modifications. Remove the custom ad blocker rule(s) and the page will load as expected.