Ad blocker interference detected!
Wikia is a free-to-use site that makes money from advertising. We have a modified experience for viewers using ad blockers

Wikia is not accessible if you've made further modifications. Remove the custom ad blocker rule(s) and the page will load as expected.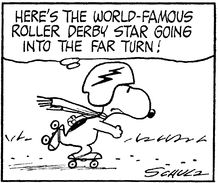 The
World Famous Roller Derby Star
is one of
Snoopy's alter-egos
introduced to
Peanuts
comic strips on
July 4, 1969
.
Wearing roller skates and a crash helmet, Snoopy's sole appearance as this alter-ego occurred at the end of a brief storyline in which Lucy van Pelt had skinned her knees while roller skating.  Asked by her brother Linus if she would skate again, she informed him that she had given her skates away.