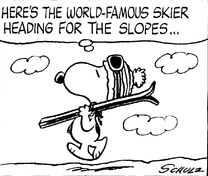 The World Famous Skier is one of Snoopy's alter-egos introduced to Peanuts comic strips on December 15, 1969.
This alter-ego is introduced during a storyline in which Charlie Brown and Linus van Pelt go on a school skiing trip to Lofty Mountain.  Wearing a ski toque and goggles, and carrying a set of skis, Snoopy joins them.
Snoopy initially asks to be directed to the rabbit slope.  He also has difficulty finding ski boots as his entire body fits in one boot.  When Linus mentions that the ski instructor has spoken to all of the skiers except for Snoopy, Snoopy guesses that the instructor might think that he is an Olympic team member.
Ad blocker interference detected!
Wikia is a free-to-use site that makes money from advertising. We have a modified experience for viewers using ad blockers

Wikia is not accessible if you've made further modifications. Remove the custom ad blocker rule(s) and the page will load as expected.